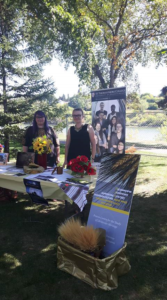 Although the focus of the PCUH is to sponsor and support Ukrainian programming on the University of Saskatchewan campus, it does so as part of the community. As a community supported institution, the PCUH looks to convey information about its activities. This year, for the first time, Ukrainian related programming on the University of Saskatchewan campus – PCUH, Spring Session in Ukraine, and Ukrainian Studies Minor program – was promoted at Folk Fest (August 17-19) and Ukrainian Day in the Park (August 26) as part of its information campaign.
At the invitation of Mrs. Jennifer Fedun, UCC-Yorkton branch president, a promotional display was set up at the Svoboda (Freedom) Celebration event (September 17) commemorating Ukrainian independence and Canada's sesquicentennial (150) anniversary. The event was well-attended by the local Ukrainian-Canadian community that showed great interest in the study abroad program Spring Session in Ukraine and PCUH projects. The PCUH has a close relationship with the Yorkton community, hosting several travelling exhibitions and having received valuable donations to the Letters from/to the Old Country Project as well as the Yorkton Redemptorists Seminary Library Collection.
The PCUH acknowledges the effort of the new PCUH Administrative Assistant, Iryna Kozina, in promoting the PCUH at these events.