Within the context of the longstanding University of Saskatchewan/Chernivtsi National University Cooperation Agreement, a University of Saskatchewan Graduate Internship Program was created and approved in 2006. Funds were provided by the Government of Saskatchewan through the Department of Advanced Education and Immigration in support of the program to be administered and coordinated by the Prairie Centre for the Study of Ukrainian Heritage.

                                  Tara Longmire, 2011 Chernivtsi Graduate Intern
The purpose of the program is to place a University of Saskatchewan graduate or post-graduate for a single semester (February 15 – May 31) at the Hnatyshyn Center for Canadian Studies (HCCS), Chernivtsi National University. The student, whose graduate work is in the Canadian Studies field, teaches and works at the Center. Their duties include instruction of an Introductory Canadian course from within their field of study, assisting in curriculum development, securing academic resources, helping the HCCS Director organize and plan conferences/colloquia, while also completing a number of Center-related tasks, i.e. English-language updates to the website, writing grant proposals, etc.
From the perspective of CNU, the graduate student is an important resource, enhancing the teaching profile of the Center, while also providing the only opportunity for students there to acquire first-hand instruction in the English language from an individual with relative expertise in the area. The appointment also serves as an important resource for Center faculty in terms of curriculum, professional and pedagogical development.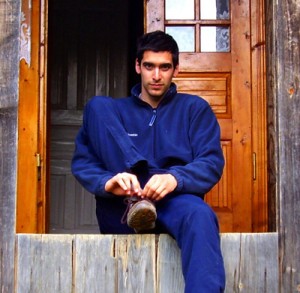 Eric Woods, 2007 Chernivtsi Graduate Intern

The placement provides a rare as well as exciting international experience for graduate students, offers an opportunity for recent graduates to acquire desirable teaching experience in their field of study, helps promote interest in Canadian Studies as well as Canada and Saskatchewan more generally, strengthens both the educational linkage between universities and the historical/cultural bond between the twinned regions of Saskatchewan and Bukovyna.
Past student interns include:
ERIC WOODS (2007)
NICHOLAS DECOCK (2008)
CARL HYDOMAKO (2010)
TARA LONGMIRE (2011)
SARAH SHOKER (2013)
DALLAS POSAVAD (2014)
MITCHELL DOWIE (2018)