An international scholarly conference titled "In Search of One's Own Voice: Oral History as Theory, Method, and Source," was held in Kharkiv December 11 & 12, 2009. It was jointly organized by the Prairie Centre for the Study of Ukrainian Heritage at St. Thomas More College, the Kowalsky Eastern Institute of Ukrainian Studies, the Ukrainian Oral History Association, and the V. Karazin National University of Kharkiv. Specialists in various fields within social studies and humanities from Ukraine, Russia, Belarus, Canada, Germany, Belgium, Finland, and Poland, who actively apply the oral history method in their research, took part in the conference.
Issues pertaining to oral history as a research method, the analysis and interpretation of interviews, and the use of oral sources were discussed at great depth, and the results of scholarly projects were presented.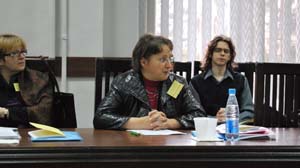 Keynote speaker Natalia Pushkareva discussed the gendered aspects of oral historical research. Dr. Pushkareva is a leading specialist at the Institute of Ethnology and Anthropology - Russian Academy of Sciences, Editor-in-Chief of the journal Sotsial'naya Istoriia/Social History, and Vice President of the Academic Council, Moscow Centre for Gender Studies. She is an internationally acclaimed scholar in gender studies.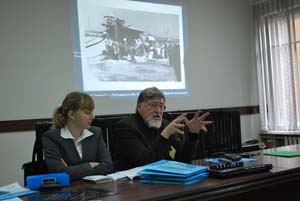 Alexander Von Plato presented his keynote address to conference participants. Dr. Von Plato is a renowned specialist in 20th century German history, a founder and later Director of the Institut für Geschichte und Biographie at the University of Hagen (1993-2007), and a leading German oral historian.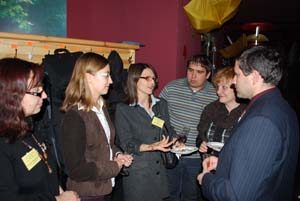 Rozalia Cherepanova (Cheliabinsk, Russia), Oksana Tovarianska (Kyiv, Ukraine), Natalia Khanenko-Friesen (Saskatoon, Canada), Taras Nagaiko (Pereiaslav-Khmelnytsky, Ukraine), Gelinada Grinchenko, and a representative of Kharkiv University faculty exchanged ideas during the reception.