Kharkiv, Ukraine (December 11-12, 2009)
An international scholarly conference titled "In Search of One's Own Voice: Oral History as Theory, Method, and Source," was held in Kharkiv on 11–12 December 2009. It was jointly organized by the Prairie Centre for the Study of Ukrainian Heritage at St. Thomas More College, Kowalsky Eastern Institute of Ukrainian Studies, the Ukrainian Oral History Association, and the V. Karazin National University of Kharkiv. Specialists in various fields of social studies and humanities from Ukraine, Russia, Belarus, Canada, Germany, Belgium, Finland, and Poland, who actively apply the oral history method in their research, took part in the conference.
Issues pertaining to oral history as a research method, the analysis and interpretation of interviews, and the use of oral sources were discussed, and results of scholarly projects were presented.
Two collections of essays based on the work of this symposium are currently being prepared by PCUH and UOHA.
For conference program and abstracts click here.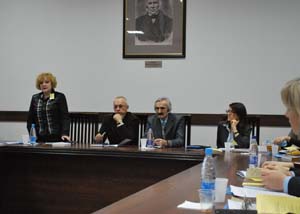 The Conference Organizing Committee welcomes the conference participants. Gelinada Grinchenko extends her greetings to the audience on behalf of the Ukrainian Oral History Association.  Dr. Grinchenko is the Head of the Ukrainian Oral History Association, professor of Ukrainian Studies at Kharkiv National Karazin University and a leading oral historian of Ukraine. Sitting are Volodymyr Kravchenko, Director of Kowalsky Institute for the Ukrainian Studies and Head of the Ukrainian Studies Chair, and Ivan Karpenko, Dean of Faculty of History, both Kharkiv National University, and Natalia Khanenko-Friesen (Director, Prairie Centre for the Ukrainian Heritage).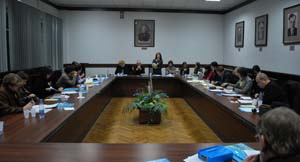 Conference participants at work.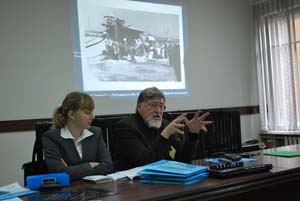 Alexander Von Plato presents his keynote address to the conference participants.  Dr. Von Plato is a renowned specialist in the 20th century German history, a founder and later a director of the Institut für Geschichte und Biographie at the University of Hagen (1993-2007), and a leading German oral historian.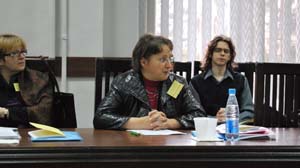 Keynote speaker Natalia Pushkareva discusses the gender aspects of oral historical research. Dr. Pushkareva, a leading specialist of the Institute of Ethnology and Anthropology in Moscow, Russian Academy of Sciences, Editor in Chief, "Sotsial'naya Istoriia/Social History", and a vice president of Academic Council, Moscow Centre for Gender Studies is an internationally acclaimed scholar of gender studies.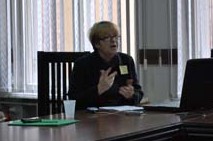 Keynote speaker Elena Rozhdestvenkaya presents her research findings. Dr.Rozdestvenkaya is a professor of sociology, State University "Highest School of Economics", Moscow, Russia), highly distinguished gender studies specialist and an oral historian.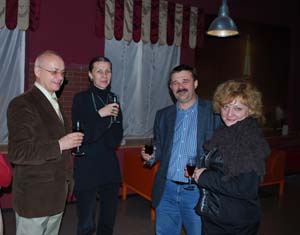 Meeting with colleagues — Volodymyr Kravchenko, Yulia Tsitkovskaya, Director, Kharkiv Historical & Archeological Society, Yuri Voloshyn, Head of Oral History Program, Poltava State Pedagogical University, and Gelinada Grinchenko.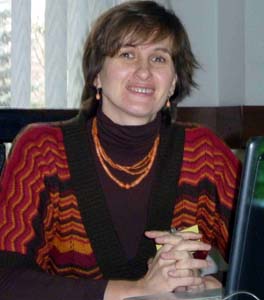 Tetiana Pastushenko speaks about her research with Ostarbeiters from Kyiv oblast. Tetiana Pastushenko is an active researcher and promoter of oral history at the Institute of History of Ukrainian Academy of Sciences, Kyiv, Ukraine. Dr. Pastushenko co-ordinated in Ukraine PCUH based project "Oral History of Decollectivisation in Ukraine in the 1990s."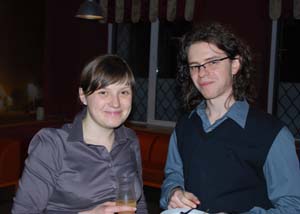 Viktoria Kudelia-Swientek, an oral historian from Poland, with her husband.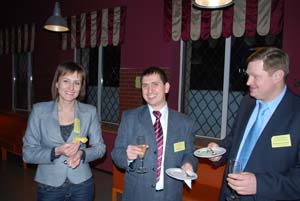 Representatives of Zaporizhzhia Centre for Oral History, Ukraine, meet with a Russian colleague Konstantin Kozlov (Belgorod). Zaporizhia is seen by many as a home to Zaporizhia school of oral history.
Rozalia Cherepanova (Cheliabinsk, Russia), Oksana Tovarianska (Kyiv, Ukraine), Natalia Khanenko-Friesen (Saskatoon, Canada), Taras Nagaiko (Pereiaslav-Khmelnytsky, Ukraine), Gelinada Grinchenko and a representative of Kharkiv University faculty exchange ideas during the reception.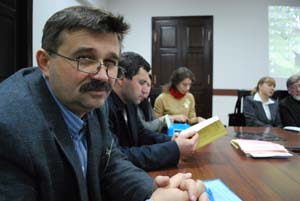 Yuri Voloshyn, Professor of History Department, Poltava State Pedagogical University, Ukraine, coordinated the work of the round table for graduate students held during the conference.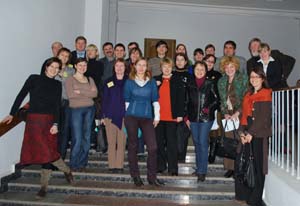 Conference Participants — creating long-lasting connections.