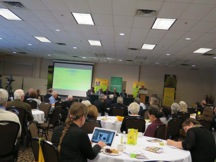 A conference celebrating the 40th anniversary of the Canadian Institute of Ukrainian Studies drew a large number of academics from across Canada, the US and Europe to discuss the state of Ukrainian Studies in Canada. Held at the University of Alberta October 14-15, the conference focused on the changing post-secondary landscape and its impact on Ukrainian Studies. In addition, challenges and innovations in the field were discussed. PCUH Faculty Associates, Professors Khanenko-Friesen and Kordan were invited to speak at the gathering.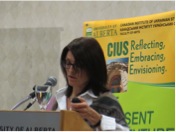 In a panel discussion on Ukrainian Canadian Studies, PCUH Faculty Associate Prof. Natalia Khanenko-Friesen noted the importance of strategic engagement. She highlighted the potential of community-based scholarship and her work on oral history with the PCUH as a rich and invaluable resource. She also forcefully argued for the need to work with other Canadian institutions to capitalize on the potential inherent in collaboration and with young scholars in Ukraine who increasingly are making contributions to the field.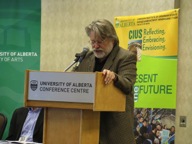 For the panel 'Teaching Ukrainian Studies' Prof. Kordan, drawing on the experience of the PCUH, discussed the vital role centres might play in backstopping program under threat and argued not only for innovation in programming but also providing experiential learning opportunities to students as an alternative to teaching exclusively in the area of Ukrainian Studies where faculty resources are scarce.
For the conference program and a video transcript of the proceedings, see
https://www.ualberta.ca/cius/news-and-events/conferences/cius-invites-you-to-join-us-at-our-40th-anniversary-conference