The PCUH was proud to co-host with the STM Dean's Office the annual reception for Ukrainian Studies on Thursday, October 20th. Current students enrolled in the program and others were in attendance this year, along with STM faculty and community supporters.
The Associate Dean of St Thomas More College, Dr. Darrell McLaughlin, welcomed the students to the college as the home of Ukrainian Studies on the UofS campus. He spoke of the program and how it has benefitted numerous students over the years. Prof. Natalia Khanenko-Friesen, chair of the interdisciplinary program, provided information on the requirements of the degree and of the opportunities students could avail themselves, including STM's Spring Session in Ukraine (a study abroad program) as well as scholarships and awards in Ukrainian Studies made available through the college. Prof. Kordan, PCUH Director, spoke about the role of the centre on campus. He highlighted the centre's financial support for course instruction, students, and their activities. He also mentioned the importance of experiential, non-classroom learning as an additional way to discover Ukrainian culture and identity, which the centre also champions.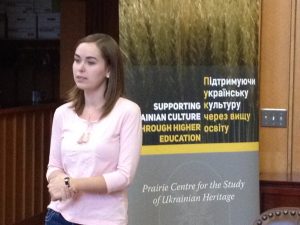 Ashley Halko-Addley, co-president of the University of Saskatchewan Ukrainian Students' Association was also on hand, encouraging students to consider association membership as a way to connect with other students interested in Ukrainian life on campus and announced to the attendees that the Ukrainian Students Association had just been formally recognized as a student's group affiliated with St Thomas More College.