Professor Natalia Khanenko-Friesen, Professor of Anthropology and PCUH Research Associate, was recently recognized with the 2015-16 St Thomas More College Teaching Award, granted to a faculty member based on student nominations and recommendations from an adjudicating faculty committee. The committee cited Professor Khanenko-Friesen's commitment to community engaged learning, use of creative pedagogical tools, and innovative forms of teaching in the classroom as the basis for the award.
Joining St Thomas More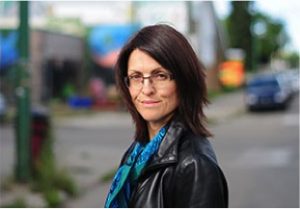 College (STM) in 2001, Dr. Khanenko-Friesen played a key role in developing both the college's Ukrainian Studies Minor degree and the study abroad offering –'Spring Session in Ukraine'. The 'Spring Session in Ukraine' is conceived as an intensive language and culture immersion program coordinated jointly by St. Thomas More College and the University of Saskatchewan. It is offered overseas in Ternopil, Ukraine in co-operation with a partner institution, Ternopil National Pedagogical University. From the program's inception, Dr. Khanenko-Friesen was instrumental in engaging STM students with this opportunity abroad and teaching students a culture course to complement their language training. Both the Ukrainian Studies Minor degree and Spring Session in Ukraine programs are supported by the PCUH.
STM Courses taught by Natalia Khanenko-Friesen:
ANTH 111.3 Introduction to Sociocultural Anthropology
ANTH 227.3 Cultures of Central and Eastern Europe
ANTH 233.3 Anthropological perspectives on Ukraine
ANTH 330.3 Oral History and Storytelling: Anthropological perspectives
INTS 202.3 Ukrainian History and Culture: An Introduction
RLST 413.3 Ritual and Narrative: Anthropological Perspectives