On Tuesday, November 5th, the PCUH in association with the STM Dean's Office co-hosted the annual Ukrainian Studies Reception.
The many students in attendance were informed about all aspects of Ukrainian Studies on the University of Saskatchewan campus. Representatives from the STM Dean's Office and Ukrainian Studies faculty spoke briefly about the Minor in Ukrainian Studies, Scholarships and Awards, Ukrainian language courses on campus, Spring Session in Ukraine study abroad program, and PCUH activities.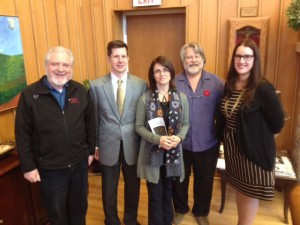 Hosts of the 2013 Ukrainian Studies Reception: STM Associate Dean Dr. Darrell McLaughlin, STM Dean Dr. Carl Still, Ukrainian Studies Chair Dr. Natalia Khanenko-Friesen, PCUH Director Dr. Bohdan Kordan, SSU Coordinator and Ukrainian language instructor Prof. Nadya Foty-Oneschuk.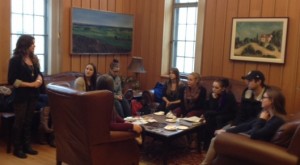 The president of the University of Saskatchewan Ukrainian Students Association, Jenna Sakowsky, also promoted the club and its activities, announcing several upcoming events.
Thank you to everyone who attended, including the organizers, scholarship donors and, most importantly, the students!