Bohdan S. Kordan. Far, Far Away: Postcards from Pre-Revolutionary Ukraine.Saskatoon: Heritage Press, 2007.
Paper  ISBN  978-0-88880-527-0, 112 pages  colour illustrations
$19.95 + GST and SHP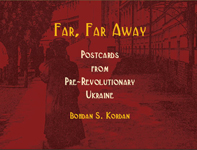 At the end of the nineteenth century the attraction of the picture postcard followed after a fashion the growing appetite for travel. Every corner of the globe was within reach and Ukraine was no exception. There the traveler encountered a landscape full of contrasts and mystery – a land rich in cultural diversity. Much of it, of course, is no more. But there are reminders; not least of which are the vistas and scenes captured in the postcard, printed initially in the thousands but of which only the odd few remain today.
Far, Far Away, a full colour catalogue produced to accompany an exhibition of one hundred and thirty four postcards of Ukraine's pre-1917 urban landscape, speaks to this distant past, providing charming representations of a lost world and a forgotten time. As historical illustrations they serve to document changes in the built landscape. As images that inspired the traveller they articulate a particular aesthetic, one that perhaps inclined as much to the imaginary as it did to the real.