STM's Professional and Community Service Committee announced that this year's winner of the Margaret Dutli Professional and Community Service Award is Dr. Bohdan Kordan, professor in the Political Studies department and interim director of the PCUH. The announcement describes Professor Kordan's contributions as follows: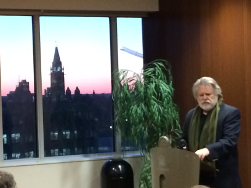 "Dr. Kordan's work shows a lifetime dedicated to advancing the interests of the Ukrainian community in Canada and addressing issues around internment. He played an important role in the Ukrainian Canadian Congress (UCC) National Redress Committee that negotiated a $10-million settlement with the Government of Canada for ethno-cultural communities impacted by WWI internment. He has worked with local partners to create a public memorial and a permanent museum display about the internments contributing to our understanding of the importance of tolerance and rights. On a national level, he has been consulting with Historica Canada on a new Heritage Minute about the WWI internment camps. He has also served as policy advisor to the Canadian Ethnocultural Council and was invited to sit on a number of foundation boards.
One of Dr. Kordan's most longstanding projects has been the Prairie Centre for Ukrainian History (PCUH). He was its founding director in 1998 and has served as director multiple times in the years following. His work with PCUH has included a partnership with the Hnatyshyn Canadian Studies Centre in Ukraine, creating the Mohyla Lecture Series, Policy Forum Series, Heritage Press, as well as organizing countless lectures and conferences. For his contributions, Dr. Kordan has received the Shevchenko Medal from the UCC, the Nation Builders' Award from the UCC-Saskatchewan Provincial Council, and the Queen's Golden Jubilee Medal.
His work has left an indelible mark on STM, the Ukrainian community in Saskatchewan and Canada, as well as beyond and it is for that reason the PCS committee is pleased to be able to honour Dr. Kordan with the Margaret Dutli Professional and Community Service Award."