The annual Ukrainian Studies Reception, co-hosted by PCUH and the STM Dean's Office, took place October 10 at St. Thomas More College. This year's reception was well attended with thirty students, faculty and guests present.
Dr. Tammy Marche, STM's newly-appointed Associate Dean, brought greetings from the college and spoke of the prominence of Ukrainian Studies at STM. She was followed by several faculty that oversee various aspects of Ukrainian Studies program on and off campus – Profs. Khanenko-Friesen, Kordan, Foty-Oneschuk, and Prokopchuk. Each spoke of the work being done and the opportunities available for study as well as research. The support provided to the University of Saskatchewan Ukrainian Students Association (USUSA) and its activities was emphasized.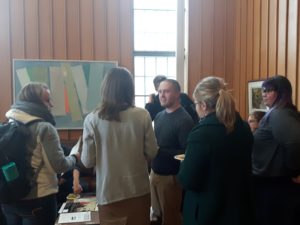 Mr. Danylo Puderak, Executive Director of the Ukrainian Canadian Congress-SPC, brought greetings from the community, encouraging students to apply for scholarships off and on campus. He also made note of how participating in the USUSA was a formative experience in his life and urged the students in attendance to be engaged and seize the opportunities presented. Mr.Tanner Prychak, co-President of the USUSA, familiarized the attendees with the activities and initiatives of the association and encouraged students to join the club.