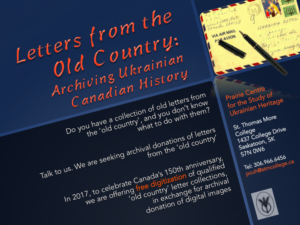 PCUH is pleased to announce the new round of archival collection of
family letters for its project "Letters
from the Old Country".
Do you have a collection of old letters from the 'old country', and you don't know what to do with them? Talk to us. We are seeking archival donations of letters from the 'old country. In 2017, to celebrate Canada's 150th anniversary, we are offering free digitization of qualified 'old country' letter collections, in exchange for archival donation of digital images.
Dr. Khanenko-Friesen also recently presented this project at the University of Alberta, her talk about family letter exchanges between Ukraine and Canada in the 20th century is available here.