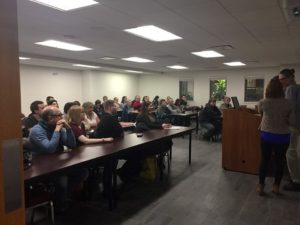 On February 15, 2017, the first-ever University of Saskatchewan Ukrainian Students Association (USUSA) research colloquium was held at STM.  The objective of the colloquium was to showcase before a general audience the research being conducted by graduate and undergraduate students studying in the Ukrainian Studies field and/or writing on subjects that pertain to Ukraine. Reflecting student interests, the presentations were on a wide range of topics. Ashley Halko-Addley spoke on the rituals of baptism in the Ukrainian Orthodox Church as a rite of incorporation. Nykole King examined the historical sources for competing ethnic and civic nationalisms in modern Ukraine. Marnie Howlett, an MA candidate in the Dept. of Political Studies, looked at how the idea of a 'Ukrainian nation' was reconceptualised as a political community in the wake of the Maidan. Meanwhile, Mitch Dowie, also an MA Political Studies student, discussed Stephen Harper's foreign policy engagement with Ukraine during the recent conflict using a Neo-classical Realist framework.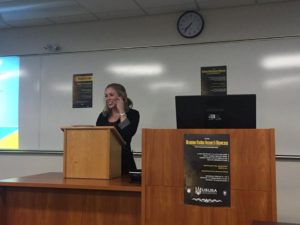 The evening affair was well-attended by a supportive and enthusiastic crowd of students and community members. Conversation carried over to a reception held in the Atrium. The success of the event suggests that it will be an annual affair. A shining example of the extraordinary energy of the Ukrainian student body on the UofS campus, the colloquium represents not only academic excellence academically but demonstrates strong organizational leadership.
The event was sponsored by the Prairie Centre for the Study of Ukrainian Heritage which provides the USUSA with financial assistance and institutional support.