A lecture performed by Natalka Husar
Thursday, February 16th
STM College, Rm 344B
7 pm
PCUH is pleased to announce the 2012 Mohyla speaker, Natalka Husar, acclaimed Canadian artist and Associate Professor at OCAD (Ontario College of Art and Design) University.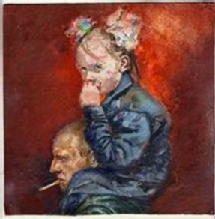 In her first Saskatoon presentation titled "Fasten Your Seatbelt," Ms. Husar examines themes of identity, displacement, and homeland – a common thread running through much of her work. Working as a playwright, Husar invents psychologically specific characters – including alter-egos for herself – to address contemporary history. In recent years she has been using the concept of post-Soviet Ukraine as a metaphorical stage, upon which her cast of characters express a wide variety of social desires and self-reinventions.
Commentary by Prof. Joan Borsa (Department of Art and Art History, University of Saskatchewan) and Jen Budney (Associate Curator, Mendel Art Gallery). Reception to follow.
Join us for a unique and exciting evening – everyone is welcome!
Please see attached press release and event poster for more information.
Mohyla Lecture Press Release 2012