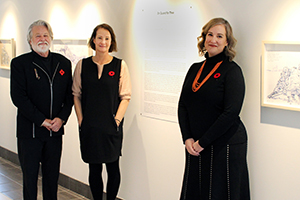 On Guard for Thee showcases drawings of war artist Richard Johnson; fundraiser aimed at surgical mission of mercy
PAUL SINKEWICZ
Nov 18, 2022
The peaceful art gallery of St. Thomas More College is situated in a hallway just outside the doors of the school's library, where its students are serenely studying. They are perhaps thinking ahead to weekend activities with friends.
On the other side of the world, in Ukraine, young men and women of the same age are literally being shredded by shrapnel from rocket attacks. Some are making the ultimate sacrifice to protect their homeland, others are being taken off the battlefield horribly disfigured. All have had their lives forever upended by Russia's invasion.
Yet the peaceful Canadian hallway, and the tragic conflict in Ukraine are connected.
An art exhibit featuring the drawings of war artist Richard Johnson is drawing attention to Canada's military contribution to the defence of Ukraine and raising money to repair wounds suffered in the conflict.
On Guard for Thee is a remarkable exhibition of prints representing Canada's Operation Unifier training mission in Ukraine, which began in 2015. The show was mounted by STM Gallery curator Linda Stark, in partnership with the Prairie Centre for the Study of Ukrainian Heritage (PCUH).
"Since Feb. 24, our community has focused on our connections with our ancestral homeland in a whole new way," said Dr. Nadya Foty-Oneschuk, interim director of PCUH, at the opening of the exhibit. "Standing shoulder-to-shoulder with our brothers and sisters in Ukraine, Ukrainians all over the world, including those of us here in Saskatchewan, are working to raise awareness about the genocidal war happening in Ukraine, and to help raise funds to ensure that humanitarian aid will get to those who so desperately need it."
"The PCUH is proud of our founding director, Professor Emeritus Dr. Bohdan Kordan, who curated this exhibit and who initiated the work to bring the partnership with Linda Stark and the STM Gallery to fruition," she said.
"Not only does this exhibit speak for itself in terms of the profound artistic talent being showcased, but it also serves as a fundraiser for this very important cause."
Dr. Kordan said the exhibit was meant to inform students, but also the wider University community and beyond.
"Very little has been said of Canada's contribution to the defence of Ukraine," he said. "Canada has done exceptional work in making that possible."
Dr. Kordan has been following Johnson's work for about 10 years. Johnson, a renowned war artist, works with both the Canadian and U.S. militaries, and his work appears in prestigious national publications and news outlets in both countries. His illustrations can be found in the Canadian War Museum and the Smithsonian Museum for American History, among others.
A Canadian now living in Scotland, Johnson said it is an emotional thing to watch one country attempt to dismantle another country through force of arms.
"The fact that it all seems so pointless, from my perspective at least, makes it all the more sad," he said. "They are slaughtering young men and women with heavy weapons. It's just an atrocious waste of life."
Johnson said the bulk of the people who are doing the dying are young men and women just out of their teenage years.
"The other people who are doing the dying are the civilian population, of course."
Johnson was in Ukraine for three weeks in 2015, during the first rotation of the Canadian trainers. They were instructing soldiers who has come straight from the front lines of the conflict, which began in 2014, in the east of the country.
While he was there, Johnson observed the Canadians teaching advanced infantry and armour techniques, as well as how to treat and evacuate casualties in the field under fire.
"I would say that over the last seven years, all of that training has made a massive difference in not just the cohesion of the Ukrainian forces but their confidence and skill level in this modern war fighting environment."
"In the time I was there they had an excellent rapport with the Ukrainians, and the Ukrainians – as exhausted as many of them were – were keen to absorb everything the Canadians could teach."
Each of the limited series prints in this collection is for sale, with all proceeds going toward the Canada-Ukraine Foundation Surgical Aid Program (CUSAP).
"This is for reconstructive surgery for civilians as well as veterans," said. Dr. Kordan. "It supports volunteer Canadian surgeons who are going over to Ukraine to – as much as they can – make the lives of the people who have been victimized by the war better."
Dr. Carl Still, President of STM College, called the exhibit timely, and thanked Dr. Kordan for his expert curation. He said the drawings had only grown in significance and poignancy since they were first made.
"It's not difficult to draw a line between these images and the images we see on the news every day coming out of Ukraine," said. Dr. Still.
"These drawings give us a glimpse into the realities of military training when the threat is real, and the stakes are high. They remind us that the defence of Ukraine did not begin earlier this year, but has been going on for several years now. And they give us a tangible opportunity to support humanitarian relief efforts in Ukraine."
Those interested can contact Dr. Foty-Oneschuk to purchase one of the pieces. (nfoneschuck@stmcollege.ca).
"Please remember that taking one of these pieces home with you following the exhibit's conclusion on Dec. 16 would not only provide an entirely unique statement piece in your collection, but one which goes directly to benefitting Ukraine itself," she said.
Link to view prints: https://stmcollege.ca/gallery/