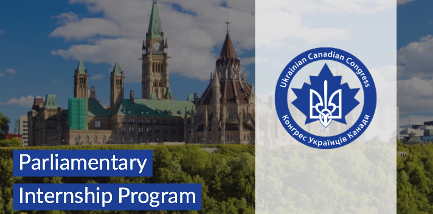 The Ukrainian Canadian Congress (UCC) announced that following an extensive national search process Matthew Selinger has been selected as one of two new UCC parliamentary interns for 2020-2021. 

Mr. Selinger will begin his placement with a member of parliament in early 2021, working remotely from home during the pandemic until such time as health regulations allow for him to proceed to Ottawa. This proved to be a successful model for Anna Bodnar, the most recent UCC Parliamentary Intern, who worked with MP Peter Fonseca from March to July. 
"The UCC Parliamentary Internship program provides an opportunity to learn about Canada's parliamentary processes firsthand. Our interns gain experience and knowledge about civic engagement and public policy which allows them to pursue careers in public service," stated Olesia Luciw-Andryjowycz, UCC Vice President.

The UCC Parliamentary Internship Program is made possible through the generosity of individual and organizational donors and supported through the UCC Charitable & Educational Trust. 
Matthew Selinger – UCC 2020 Parliamentary Intern 

Matthew Selinger is a recent graduate of the University of Saskatchewan with a B.A. in Modern Languages, as well as a B.A. in Political Studies and Ukrainian Studies. In addition to his academic work in Canada and Ukraine, Matthew has been involved with the Ukrainian Students' Association and Prairie Centre for the Study of Ukrainian Heritage (PCUH) at St. Thomas More College, USask Model United Nations, and municipal and provincial campaigns in Saskatchewan.