Dr. Khanenko-Friesen recently gave two presentations at the Oral History Association Annual Meeting in the Minneapolis (October 5-6, 2017). In the session on public history, she presented her collaborative project on Oral History of 20th Street: Many Faces of a City Core Neighbourhood, its online archives and documentary films. On the invitation from the Holodomor Research and Education Consortium (HREC, U of Toronto) she chaired a conference roundtable on Oral History and Holodomor and spoke about the digital oral history archive on collectivization in Ukraine, developed by her at the PCUH.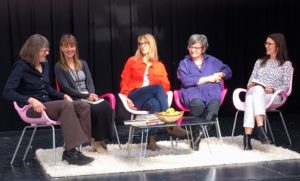 Dr. Khanenko-Friesen also traveled to Toronto to present her most recent book 'Ukrainian Otherlands' at the International Festival of Authors (IFOA), in the roundtable organized by the Kobzar Literary Award and held at the Harbourfront Centre on October 21, 2017. Both her and Dr. Bohdan Kordan's monographs – Ukrainian Otherlands and No Free Man – are shortlisted for the Kobzar Literary Award 2018.
Meanwhile, Prof. Kordan presented a paper on Canadian internment at the international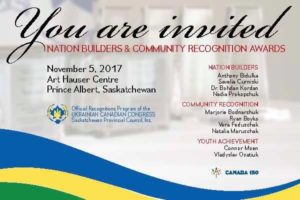 conference "Military and Civilian Internment in World War I: Differential Treatment, Its Motives and Long-Term Implications," the University of Haifa and Tel Aviv University, Israel, 13-16 October 2017. He and Nadia Prokopchuk, a PCUH affiliate, are also poised to receive the 2017 Nation Builders Award from the Ukrainian Canadian Congress (Saskatchewan), November 5, Art Hauser Centre, Prince Albert, Saskatchewan.
Finally, Nadia Foty-Oneschuk successfully defended her doctoral dissertation at the University of Alberta. Congratulations Dr. Foty-Oneschuk!