(Nickle Galleries, January 23) – An exhibition of currency from Ukraine's revolutionary past has just opened at the University of Calgary's Nickle Galleries. Created by the Prairie Centre for the Study of Ukrainian Heritage at St. Thomas More College (University of Saskatchewan) in association with the Ukrainian Museum of Canada, the exhibit tour was organized by the Alberta Society for the Advancement of Ukrainian Studies in association with the Nickle Galleries. Support for the exhibition opening was provided by the Ukrainian Canadian Professional Business Association (Calgary Branch), the Ukrainian Canadian Congress (Calgary Branch), and the Ukrainian Student Association at the University of Calgary.
Speaking at the opening reception, Vice-Provost (Libraries and Cultural Resources) and University Librarian Tom Hickerson said, "It is very exciting to see such wide-spread local support for this important exhibition of Ukrainian artifacts. It is a great indicator of the community's interest in the work of the university. This continues our tradition of forming partnerships that enable the Nickle Galleries to present free exhibitions that engage and educate the public."
Michele Hardy, Curator of Decorative Arts at the Nickle Galleries, observed, "This is a fantastic opportunity for us. The exhibit compliments our strength in numismatics, here at the University of Calgary while showcasing the currency produced during Ukraine's turbulent history of revolution and war, 1917-1920. That these items survived through the ages is simply remarkable. We are happy to have worked with the Prairie Centre to bring this wonderful travelling exhibit to the University of Calgary."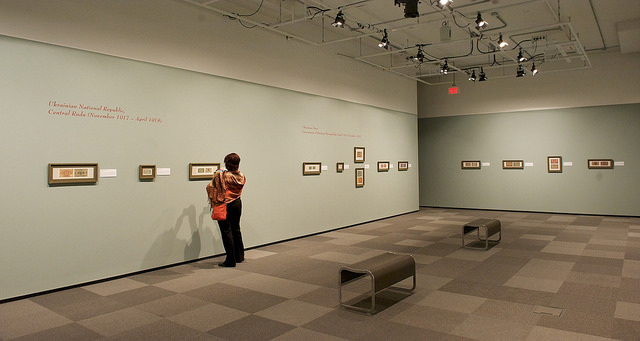 Delivering remarks at the opening, Prof. Bohdan Kordan, Curator of the exhibit and the Director of the Prairie Heritage Centre at St. Thomas More College in Saskatoon, spoke of the relevance of the exhibit in the context of current developments in Ukraine. "Sovereignty and independence are political projects that need to be nurtured and cultivated if they are to succeed. The aesthetics and symbolism associated with the currency produced during this time of great turmoil are a testament to those efforts. Through these historical artifacts, we are reminded of the long and difficult road in Ukraine's independence quest and that the current struggle is part of a historical continuum – part of the long-standing efforts at consolidating Ukraine's sovereignty."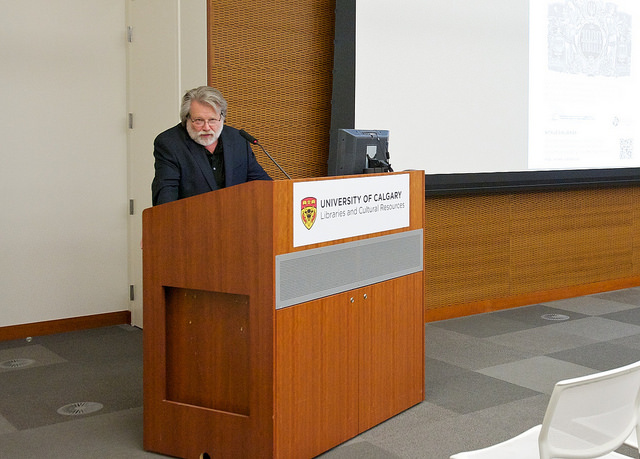 The travelling exhibit "Money, Sovereignty and Power: The Paper Currency of Revolutionary Ukraine, 1917-1920" will be on display until April 4, 2015.  The exhibit which has been traveling throughout Western Canada is scheduled to appear next at the Galt Museum in Lethbridge and the Godfrey Dean Art Gallery in Yorkton.
Nickle Galleries is located inside the Taylor Family Digital Library, on the campus of the University of Calgary.  For hours and further information, please visit: http://nickle.ucalgary.ca/
Admission is free.
For reviews of the exhibit, please see the following links:
http://www.ucalgary.ca/utoday/issue/2015-01-20/every-bank-note-tells-story
http://www.thegauntlet.ca/how-much-are-your-karbovantsiv-worth/
[All photos courtesy of Nickle Galleries/ Dave Brown]