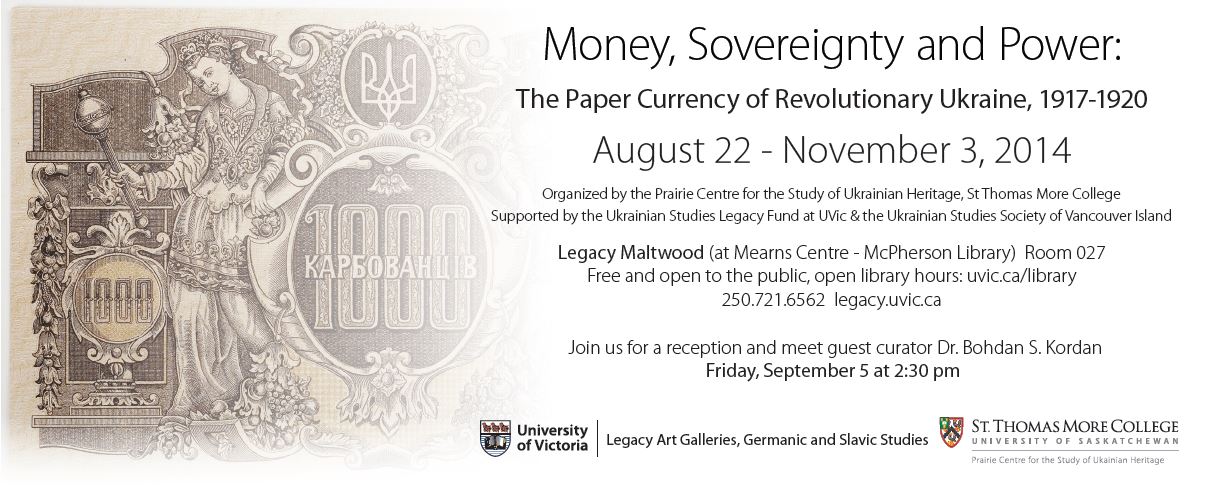 On September 5, 2014 an opening reception for the PCUH travelling exhibition "Money, Sovereignty and Power: The Paper Currency of Revolutionary Ukraine, 1917-1920" was held at the University of Victoria. The exhibit explores the issue of Ukrainian sovereignty and the efforts at symbolic representation on paper notes produced by the various governments of Ukraine during the revolutionary period, 1917-1920.
Delivering remarks at the opening, Prof. Serhy Yekelchyk of the Dept. of Germanic and Slavic Studies stated: "We are pleased to host this extraordinary exhibition of artifacts, which date from a century ago. The events of that distant past – the struggle for Ukraine's sovereignty and independence – are reflected in these currency notes. They are especially poignant in light of recent events. As a result, we are reminded of the special significance of these historical objects and take care to understand their deeper meaning and significance. We are much indebted to Prof. Kordan and the PCUH for making the exhibition available to the university community and the wider public of Victoria. We look forward to future co-operation in promoting an understanding of the Ukrainian experience both here in Canada and abroad."
The Maltwood Legacy Gallery, located at the University of Victoria, serves as the venue the exhibit. Curated by Prof. Bohdan Kordan, the exhibition "Money, Sovereignty and Power" will be displayed at the Maltwood Gallery until November 3, 2014. This is the fourth stop for the exhibition, which will travel in 2015-16 to Calgary, Lethbridge and Yorkton.
The exhibition was made possible at the University of Victoria as a result of the joint efforts of the Prairie Centre for the Study of Ukrainian Heritage (St. Thomas More College) and the Department of Germanic and Slavic Studies as well as the Legacy Art Galleries at the University of Victoria. The exhibit was also supported financially through the UVic Ukrainian Studies Legacy Fund and the Ukrainian Studies Society of Vancouver Island.