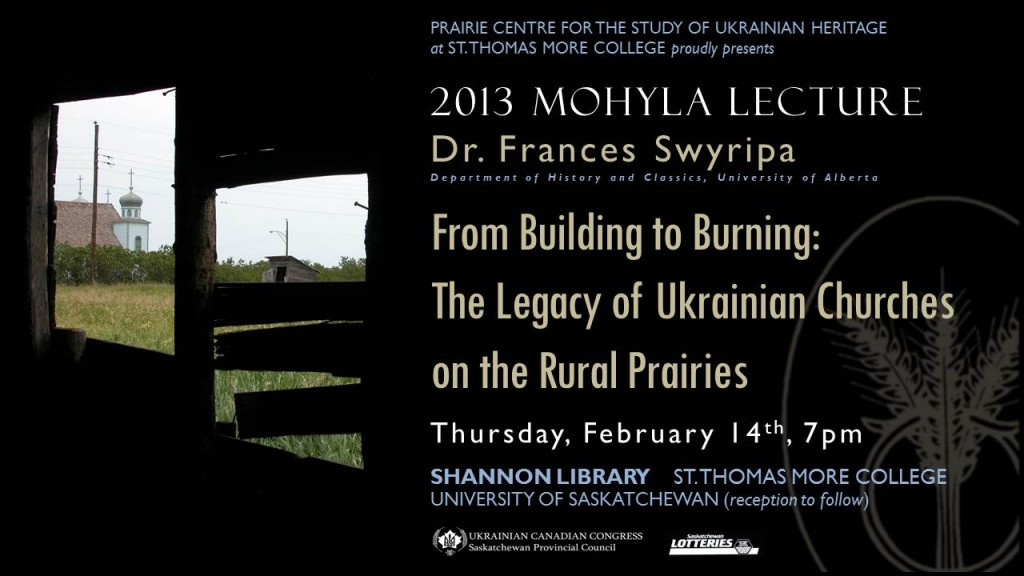 PCUH is pleased to announce the 2013 Mohyla Lecture speaker, Dr. Frances Swyripa, professor of history at the University of Alberta.
Thursday, February 14th, 7pm
Shannon Library, St. Thomas More College

In her presentation, Dr. Swyripa will discuss the historical circumstances and current state of the surviving Ukrainian churches that grace the prairie landscape. At their peak, over a thousand Ukrainian Catholic and Ukrainian Orthodox churches dotted the prairie countryside and loomed over nearby towns and villages. Today that number has shrunk, the product of a combination of changing demographics, rural out-migration, increasing secularization, a perennial shortage of priests, and maintenance costs. Some superfluous churches were properly burned or demolished and buried. Others were sold and converted to new purposes. Yet others – due to sentimentality, dispute over what to do, hope that services would resume – were simply closed and gradually abandoned to become ruins that either embarrassed or indulged the nostalgic. A privileged few became museums, mostly as part of government heritage initiatives (whether at the federal, provincial, or municipal level) but also under the direction of former parishioners. Dr. Swyripa examines these phenomena, using examples drawn from the Sanctuary: Spiritual Heritage Documentation Project, of which she is one of three principal investigators (with John-Paul Himka and Natalia Kononenko) at the University of Alberta.
Through a close study of myths, symbols, commemorative traditions, and landmarks, Dr. Swyripa asserts the inseparability of ethnicity and religious both to defining the prairie region and to understanding the Canadian nation-building project.
Join us for an interesting and thought-provoking evening – everyone is welcome!
2013 Mohyla Lecture press release