PCUH is excited to announce that after a brief hiatus, this internship will once again be offered in the winter term of 2013!
Building on a relationship of over thirt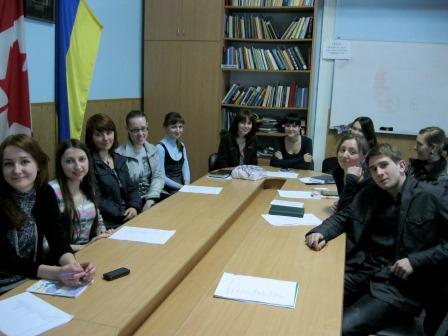 y years between the University of Saskatchewan and Chernivtsi National University, the University of Saskatchewan in association with St. Thomas More College and the Government of Saskatchewan as well as in partnership with Chernivtsi National University will offer a Graduate Internship in Canadian Studies at the Hnatyshyn Centre for Canadian Studies in Chernivtsi, Ukraine.
Applicants for the internship are expected to be enrolled in a PhD or MA program of study at the University of Saskatchewan. The applicant also will have specialized on Canada in one the following disciplines: Political Studies, History, Sociology, Economics, Geography, and English. The internship will be held during the 2013 Winter academic semester at Chernivtsi National University (February 1 – May 15, 2013). The selected candidate will be expected to work under the authority of the Director of the Hnatyshyn Studies Centre and will undertake the following:
teach a discipline-specific introductory class in Canadian Studies, i.e., Introduction to Canadian Politics, etc.
offer guest lectures on topical issues
assist in curriculum development
assist in the development of the Centre's Resource Library, identifying online resources
assist in the writing of grant proposals
Instruction will be conducted in English. Knowledge of the Ukrainian language is not a requirement.
The cost of the flight, on-campus accommodation, and a modest monthly stipend will be covered by funds allocated for the internship.
Applicants are expected to submit a letter of interest, vita, two letters of reference attesting to the applicant's knowledge, work and success in the Canadian field, and a proposed course outline. Deadline for all applications is November 13, 2012. Applications should be delivered to Rm. 146, St. Thomas More College and directed to the attention of Prof. Bohdan Kordan.
For further information on the internship, please contact Prof. Bohdan Kordan, bkordan@stmcollege.ca or Ms. Leigh-Ellen Keating, Global Relations, leighellen.keating@usask.ca  For information on the Hnatyshyn Centre for Canadian Studies at Chernivtsi National University, see http://rhcsc.chnu.edu.ua/index.php?page=en
Support for this program is provided by
University of Saskatchewan: Global Relations and the College of Graduate Studies
St. Thomas More College: Prairie Centre for the Study of Ukrainian Heritage
Government of Saskatchewan: Department of Advanced Education
Chernivtsi National University: Hnatyshyn Centre for Canadian Studies