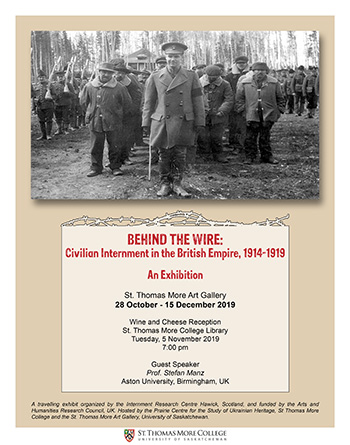 Exhibit examines First World War internment as a global phenomenon
On Tuesday November 5th, at 7:00 pm, a wine and cheese reception will take place in the Shannon Library (St. Thomas More College). All are invited to attend to hear from Dr. Stefan Manz, Professor of German and Global History and Head of Languages and Translation Studies, Aston University (Birmingham, UK). He is the author of Constructing a German Diaspora: The "Greater German Empire," 1871-1914 (2014) and more recently co-editor of Internment during the First World War: A Mass Global Phenomenon (2019).
This reception will officially open Behind the Wire: Civilian Internment in the British Empire, 1914-1919, a traveling exhibit organized by Aston University and Edinburgh Napier University (Edinburgh, Scotland), in partnership with Archaeology Scotland and the Internment Research Centre, Hawick Museum (Hawick, Scotland). The exhibit is hosted by the Prairie Centre for the Study of Ukrainian Heritage (PCUH), in association with the St. Thomas More Art Gallery. The display marks the centenary end of the Great War and is scheduled to run from October 28 – December 15 in the St. Thomas More Art Gallery.